Hello everyone….wow it's been along time since we've written anything but from time to time we did swing by to read about all the other Tripawds.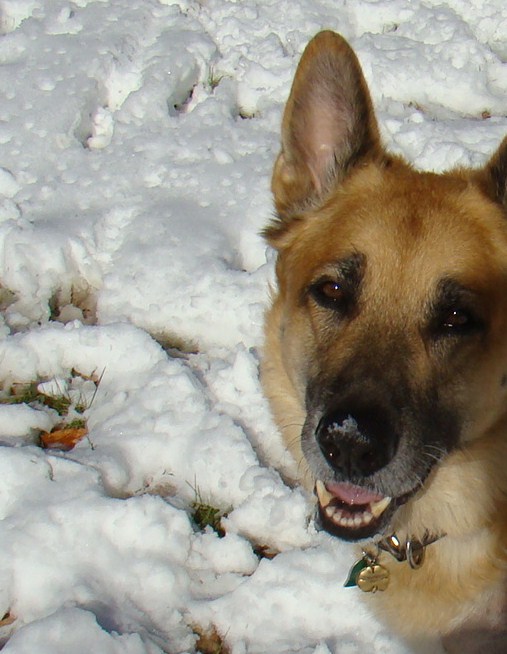 Burr…..it sure was a long cold winter, Bandit was loving the cold powder of the snow that first month but then we had gotten rain which left a hard crust on the deep snow, so it became hard for him to get around and he no longer wanted to go to play. He really didn't like the plowed driveway or the paths either I think he felt to uneasy being on them because they were slippery. Thankfully our winter was shorter than most winters, we both were really looking forward to springs arrival…a bit house happy! Summer finally arrives…..Yay! Bandit is loving it and doing pretty good, however there are days when he's sore, once in awhile he still has muscle spasms in his back legs that I still massage out and he gets a bit stiff mostly caused from over doing it the day before busy chasing all those critters that come out to play in the sunshine. On the days he wants to just lay around we put blankets on the covered porch and leave the front door open so he can keep an eye on everything because he always wants to be in the "know" yep he's still the leader of this pack we have. He especially seems the most concerned as to where I am and where his naughty lil "follower" Wally is. Wally (little golden almost 2 years old) is still a handful of naughty and laughter, if he isn't driving Bandit crazy with his constant neediness he's digging holes in the yard which we call "boobie traps" for Bandit….not good having those around having a dog with only 3 legs so a shovel and grass seed is always kept handy. It's funny because Bandit gets so annoyed with Wally but yet if I'm outside yelling for Wally and he dosen't come right away Bandit is just in a panic looking around for him. Kind of a love hate relationship…..Wally loves Bandit to death and Bandit loves to hate on Wally…LOL!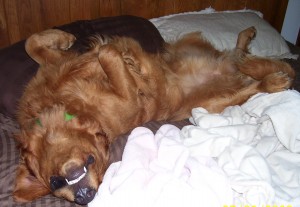 This spring Bandit took off with the others in an attempt to tree a squirrel, not realizing that he can no longer just fly under the barbwire fence and he cut the top of his head open, good news is it didn't need stitches and he no longer goes to fly under it now he'll run upto the gate and give me that look like "hurry it up get it open" oh he has to take part in the chase or he's all upset. About a month ago we took Bandit down to the lake and he went right in after that stick, swimming around like nothing was even different. It's funny because when people see him most don't even realize until he gets right up next to them that his leg is missing and then they kind of a freaked out by it but then when little kids see him rather than being a bit scared of him like they used to now they all want to check it out, touch him and ask me questions….gotta love kids they are just innocent and inquisitive by nature. I am still as grateful today as I was 8 months ago for having this site to go to just because knowing Bandit and I are not alone to this day brings me a sense of peace! Hope you all have a really great Memorial Day Weekend!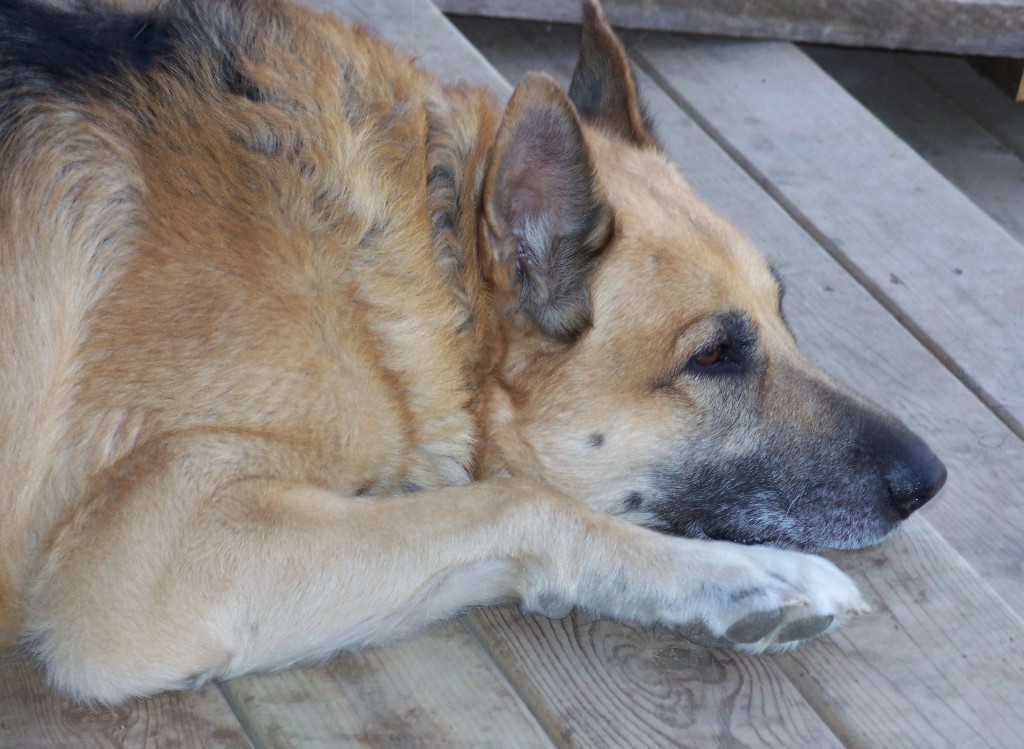 Goodnite Everyone Love~ Misty & Bandit